Dit evenement is voorbij.
Seminar The Digital Future of Finance
5 april 2019 | 13:00

-

17:00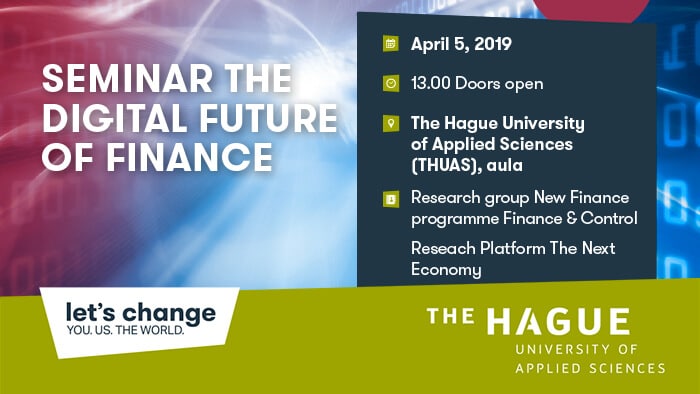 Come and join us into the digital future of finance
Prepare for a paradigm shift in the digital realm of FinTech and learn from entrepreneurs, politicians and professors about a crypto-euro using blockchain, digital finance and the EU, the application of algorithms in finance, societal and political debate on digital finance and monetary reform and a public digital safe. Moreover, three student groups will present their blockchain application projects. The future is here! See our detailed agenda below.
Programme
13:00 Doors open
13:30 Opening by Martijn van der Linden (professor New Finance at THUAS)
13:35 Launch of open national learning platform in collaboration with other universities of applied sciences and research universities by Jordi Jansen (blockchain lecturer and researcher New Finance at THUAS)
13:45 Reflection by Maarten Smakman (blockchains explorer at Blockdam)
13:50 Towards a crypto-euro using blockchain by Alex Dowdalls (founder and partner of AXVECO)
14:15 Blockchain applications: 2 student groups + 2 reactions by clients
14:45 Digital finance and the EU by Caroline Nagtegaal-van Doorn (member of European Parliament − VVD)
15:00 Break
15:30 The application of algorithms in finance by Lex van Teeffelen (professor Entrepreneurial Finance and Firm Acquisition at University of Applied Sciences Utrecht)
15:45 Blockchain applications: 1 student group + 1 reaction by client
16:00 Overview of societal and political debate about digital finance and monetary reform in the Netherlands and Europe by Martijn van der Linden (professor New Finance at THUAS)
16:10 A public digital safe by Mahir Alkaya (member of Dutch Parliament − SP)
16:15 Panel discussion with Alex Dowdalls, Lex van Teeffelen, Martijn van der Linden
and Mahir Alkaya + Q&A
17:00 Drinks in the Lighthouse